Learning Resources
Resources
Revision Guides
GCSE & A-Level Revision Guides, plus calculators and maths sets (in clear cases) are available to purchase at discounted prices from the Learning Resource Centre.
Revision Guides Order Form
AccessIT Library System
For information on resources, book reviews and Learning Resource Centre news, access the library management system. Access via https://uk.accessit.online/crm02/
LRC News
Reading Routes
A bespoke 'Reading Route' was implemented this year, for year 7 students, which was tailored to each students reading age. 25 students that completed their route, received an invite to an afternoon of hot chocolate and cookies with Mrs Kane. The students had the opportunity to chat about the books they enjoyed and discuss the different genres of books available. One of our students received a prize for reading every book on every route!
World Book Day
World Book Day was celebrated on the 3rd March and was once again a huge success. Our celebrations started with a video of 'The Masked Reader' which both staff and students loved. Some staff members read excerpts from Michael Rosen's 'Sticky McStickstick' disguising themselves with digital filters, and students guessed which staff were reading.
A special bookmark was designed by two of our year 8 students, and given out to all staff and students. Book vouchers were exchanged for a book in the LRC, with 400 students taking home a book to keep.
A form time quiz for the whole school took place, and the kitchen prepared a themed lunch. Staff dressed up in their departments, and met for our traditional staff photograph. It was a fantastic day!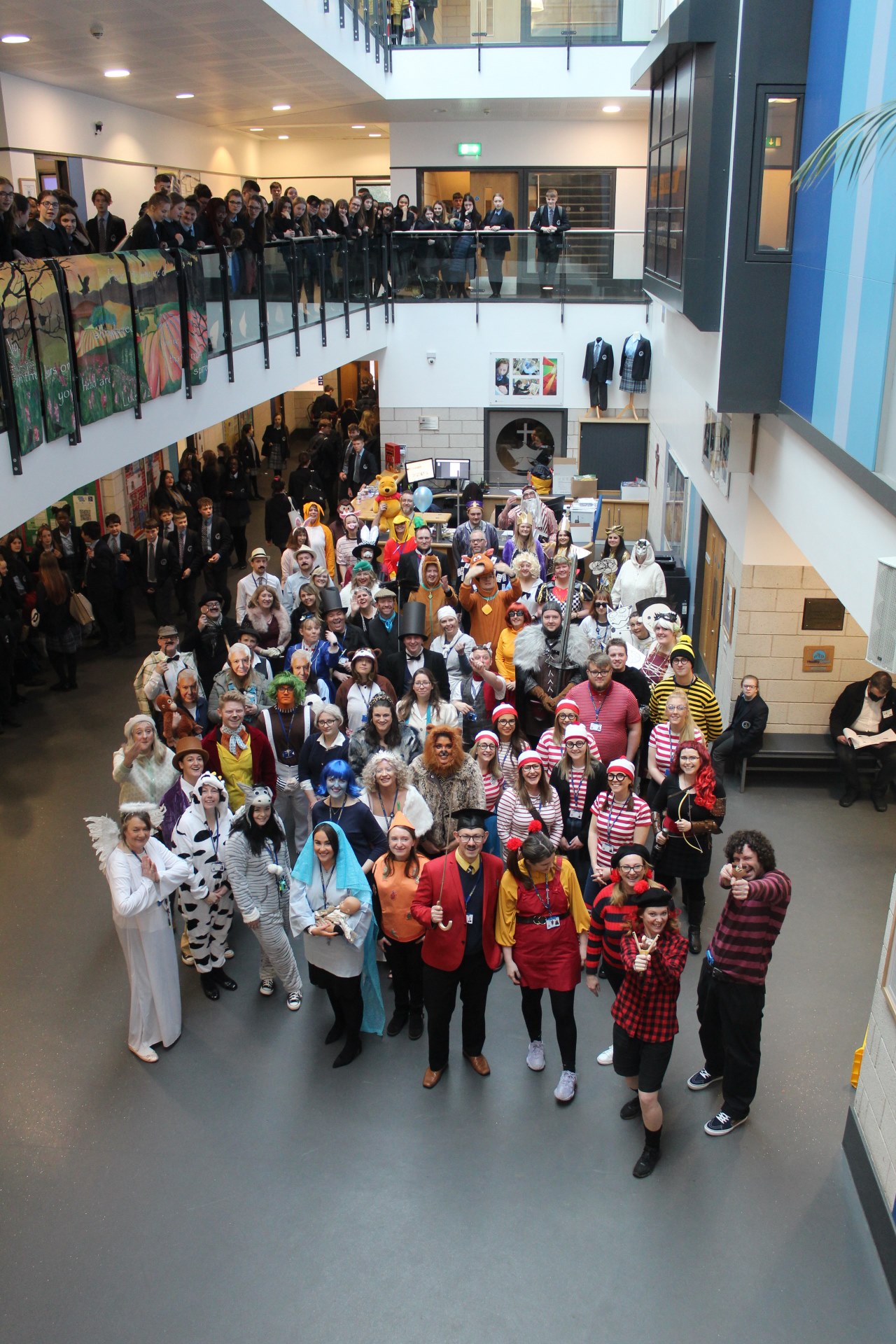 Reading Excellence
This term year 7 and 8 students have been rewarded for some fantastic reading. One student from each form in year 7 and 8 were nominated by their form tutor for excellent reading. This was not necessarily the student that had read the most this half term, but a student that stood out for trying hard. The nominated students each received a certificate and prize to celebrate.
7E and 8C received an early lunch pass, as these form classes had read the most amount of books this term.
The Midnight Library
To celebrate World Book Night, Darlington library gifted our sixth form students with 100 copies of Matt Haig's The Midnight Library. Students have been enjoying their copies!
World Book Day 2021


World Book Day is always a huge celebration at Carmel College and despite the challenges this year, we intended to celebrate virtually.
This year was just as brilliant but in a very different way. Staff were encouraged to dress up or have a virtual background, some staff did both! Staff and students took part in our World Book Day quiz during a virtual form time. This year, we added a 'Masked Reader' round which both staff and students loved. Some of our staff read excerpts from Sir Captain Tom Moore's 'One Hundred Steps'. Many different activities were on offer for students to participate in, some of which included author podcasts and the World Book Day rap. We created a bookmark which was handed out to all students and staff. Students were given the opportunity exchange their World Book Day voucher for their very own book.
Year 7 Michael Morpurgo Event
Despite schools being closed, Year 7 still managed to have a virtual event with one of Britain's best loved story makers, Michael Morpurgo. Michael has written over 100 books including Warhorse, Private Peaceful and Butterfly Lion. Michael spoke to the students about what inspires him to write his books and answered questions from students.
Eclipse
For information on resources, book reviews and Learning Resource Centre news, access the library management system, Eclipse.net. Also now available from the FREE iMLS app for your iPhone, iPad and iPod touch.
---
Mobile Library
The mobile library will be available for Year 9 on a Monday lunchtime (Week A), Year 7 on a Monday lunchtime (Week B), and Year 8 on Thursday lunchtime (Week B). Students in all year groups can send requests through at any time to Mrs Creek in the LRC.
Book Bus
Browns Books for Students visited this term with their Book Bus. The Book bus is a purple double decker bus that houses a large selection of fiction, non-fiction and graphic novels. Students from all year groups had the opportunity to visit the bus and browse. Students were given hand held scanners and encouraged to 'buy' books that they would like to see in the LRC. This was a fantastic opportunity to talk about the sorts of books that would encourage students to visit the LRC.
Book Buzz
Bookbuzz is a reading programme from BookTrust that aims to inspire a love of reading in 11-13 year olds. The programme was launched with an assembly where Year 7 students discussed the importance of reading and even got to hear about some of their teachers favourite books! Each Year 7 student have been given the opportunity to choose their own book from a selection of titles. This book will be kept in their form class and will have a dedicated time to read and swap books. Competitions will be held throughout the year and further resources can be found at www.bookbuzz.org.uk.
Year 7 students have enjoyed taking part in the Bookbuzz reading programme from BookTrust, which aims to inspire a love of reading. Each student was given the opportunity to pick their own book from a selection of titles, which is their book to keep. Quizzes and challenges have been held throughout the year, with 7C winning the prize for the most books read!
Author Visit
Some of our Year 7 students have been visited by award winning author of children's adventure stories, Dan Smith. Dan spoke to the students about his life growing up and the adventures that inspired him to write books. The students were enthralled with his exciting stories and asked many questions. More information about Dan and his adventures can be found on his website http://www.dansmithsbooks.com. We have signed copies of Dan's books for students to borrow in the LRC.
Scholastic Book Fair
Thank you to everyone who supported our annual Book Fair, which took place in the Learning Resource Centre and at the Christmas Fayre. £400 was taken, resulting in 40% commission to buy new books for the library. Discounted books can be bought throughout the year via Scholastic Books Clubs, online at: https://shop.scholastic.co.uk/schools/carmel-college.
Carnegie Award
Eleven students participated in this year's Carnegie Book Award Shadowing Scheme. The Carnegie Medal is awarded annually to the writer of an outstanding book for children. Those taking part, referred to as 'Shadowers', had been tasked with reading eight shortlisted titles over a fourteen week period. The judging event took place on 18th June. Shadowers voted 'Things a Bright Girl Can Do' by Sally Nicholls and the 'House with Chicken Legs' by Sophie Anderson as joint winners. The official winner as voted by CILIP (Chartered Institute of Library and Information Professionals) was 'The Poet X 'by Elizabeth Acevedo - a novel about a fifteen year old girl called called Xiomara, who works through the tension and conflict in her family by writing poetry. All eight titles are available to borrow from the LRC.
Poetry Connextions
As part of the Crossing the Tees Festival, 30 students have taken part in a fun creative poetry writing workshop to encourage new teenage writers. Local performance poet Andy Willoughby worked with Year 10 students to create a poem describing where they came from. The students produced some fantastic work and discovered they have a real talentfor poetry writing.
Book Factor
Year 6 children from St Bede's, Holy Family, St Augustine's and St Teresa's voted for the winner of the Book Factor 2019. The children were asked to read three books and vote for their favourite. The chosen book was Michael Morpurgo's beautifully written 'Eagle in the Snow'. All children starting in September will be encouraged to read the winning book. Copies will be available to borrow from the Learning Resource Centre.
Liz Million Visit
Carmel College were lucky enough to receive a visit from local illustrator and author of children's books, Liz Million. Liz visits schools, libraries and museums all over the world to talk about her work and to show people how to draw. Students from Years 7- 10 were given an insight into how to become an illustrator, as well as step by step drawing tuition.
Library Competition
Rachel Taplin won our competition to win a family swim at the Dolphin Centre. Any student taking a book from the Learning Resource Centre between 20-23 May was entered into a raffle to win this fantastic prize.